January 8, 2019 9:49 AM
NHL19 Tournament sponsored by the Anaheim Ducks and North America Scholastic Esports Federation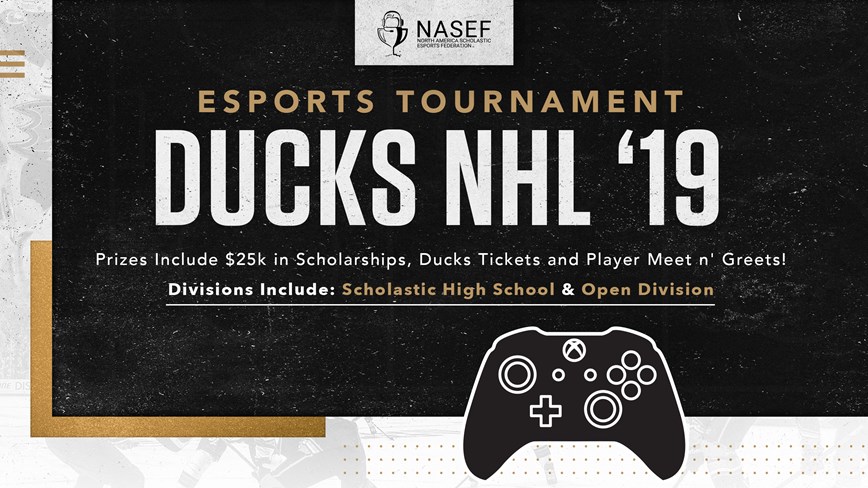 High school esports scholarships to be given in NHL19 tournament sponsored by the Anaheim Ducks and North America Scholastic Esports Federation
NASEF's video game tournaments make meaningful connections between play and learning for high schoolers; scholarships add extra incentive to tournament play
(Orange County, CA – January 7, 2019) – As esports and the sport of hockey continue to expand both nationally and locally, the North America Scholastic Esports Federation (NASEF) is partnering with the Anaheim Ducks to combine the two pursuits on-screen and in-person with an esports tournament. The tournament will use EA Sports NHL 19 as a platform to educate high schoolers while enjoying the play of hockey. With the additional support of the Anaheim Ducks, winning players and schools will take home scholarships with a combined value of nearly $25,000.
NASEF will host the scholastic NHL 19 tournament from Feb. 18, 2019 – Mar. 15, 2019 in conjunction with the Anaheim Ducks. High schoolers can participate through their school or community organization's NASEF Club. Students can win scholarships ranging from $1,000 - $5,000 for their own college education, plus grants up to $2,500 for their high schools. Additional scholarships will be given to students who win creative "Beyond the Game" competitions with a hockey theme. Participants may also qualify for gear and gifts from the Ducks.
All high schoolers in Southern California are encouraged to register for the tournament through their NASEF high school or community-based organization. NASEF Clubs are easy to set up, and participation is free. Learn how to establish a club at esportsfed.org.
click here for more information