January 18, 2019 3:12 PM
Jr. Ducks' Jackson Niedermayer commits to Arizona State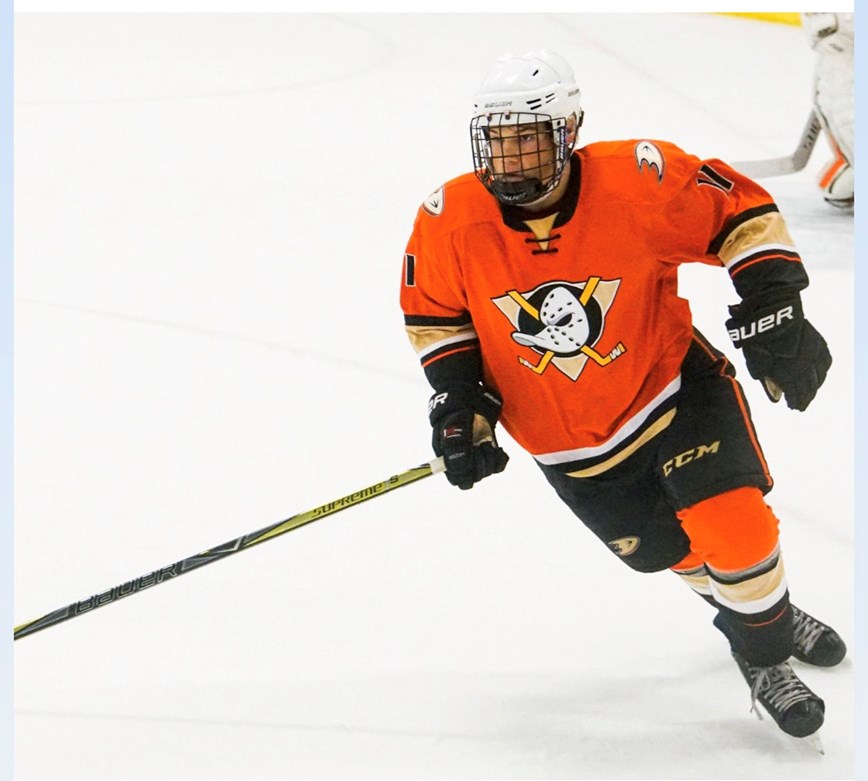 By Chris Bayee
One month to the day before the Anaheim Ducks retire his father Scott's jersey, longtime Anaheim Jr. Duck Jackson Niedermayer committed to play college hockey at Arizona State.
Jackson is the 21st player with ties to the Jr. Ducks to make an NCAA Division I commitment in the past five seasons, and he becomes the eighth player from the 2001 birth year team – coached by his father and Craig Johnson – to commit.
"It's really exciting, and I'm glad everything worked out," Jackson said. "We had a lot of guys on our (16U AAA) team getting college offers in the past year, which was great to see. Arizona State was the first team that showed interest in my potential, and they kept in touch."
Jackson, who is playing junior A hockey for the Penticton Vees of the British Columbia Hockey League this season, is a forward with a goal-scorer's touch. His father, whose No. 27 the Ducks will raise to the Honda Center rafters on Feb. 17 in a game against the Stanley Cup champion Washington Capitals, was a defenseman who is enshrined in the Hockey Hall of Fame.
His father let Jackson forge his own path on the ice, right down to his college decision.
"We were preaching patience, which isn't always easy for a teen-ager," Scott said. "We talked about colleges, and he put a lot of thought into this. At the end of the day, he's old enough and we support him and his decision 100 percent."
From an early age, Jackson said he knew he wanted to play college hockey. He also figured out something else – he loved scoring goals.
"Forward always appealed to me more than defense," Jackson said. "That's why I worked on shooting so much, doing the little things no one sees, whether it was shooting pucks in the backyard or going to clinics.
"I credit Craig and my dad for my development. I tried to apply all of these things they taught me and continue to teach me."
Jackson entered his first season of juniors after helping the Jr. Ducks Midget 16U AAA team win a bronze medal at the USA Hockey Youth Nationals in April.
If he wasn't on college coaches' radar before the 2017-18 season, he made sure they knew who he was during it. He racked up 73 points between the Tier 1 Elite Hockey League, CAHA and Nationals.
"Last year was a big year for the team and for me," Jackson said. "I've pretty much grown up with Ryan (Johnson) my whole life. We had JP (Jonathan Panisa) come back and contribute.
"We all were going after the same goal – to play college hockey and eventually play somewhere in the pros. … A big part of our success last season was we were super close on and off the ice."
Jackson led CAHA in scoring with 26 points and 20 goals in 13 games. He finished tied for sixth in the prestigious Tier 1 league with 42 points, including 23 goals, in 34 games. For good measure, he added seven points in five games at Nationals.
"He has always had that knack to score goals, and he loved to score goals," said Craig Johnson, who also serves as the Jr. Ducks director of coaches. "Some guys just have that knack, and Jackson is one of them.
"He's worked hard on his conditioning and the physical side to his game, and he's always skated well. But the big thing is he's a great kid who loves the game, and he's a great teammate. His teammates loved playing with him.
"I'm very proud of him and the Jr. Ducks are very proud of him for what he's accomplished and for his commitment to Arizona State. Jackson just kept working toward his goals and his future in the game is very bright."
Jackson also played for Orange Lutheran in the Anaheim Ducks High School Hockey League, played for the Jr. Ducks' entry in the 2014 Quebec International Pee Wee Tournament and was a multiple choice for USA Hockey's summer Select camps.
His 2001 Jr. Ducks cohort includes highly rated 2019 NHL Entry Draft prospects Cam York (Michigan) and Ryan Johnson (Minnesota), as well as long-time teammates Panisa (UMass-Amherst) and Nicholas Kent (Quinnipiac). Other 2001 college commits who have played for the Jr. Ducks include Josh Groll (Michigan), Jarrett Overland (Air Force) and Ethan Wolthers (UMass-Amherst). And that group could have more company in college from their teammates.
"Craig was a big reason why, a huge reason," Scott Niedermayer said. "He had a group of young players that he committed to coaching. Over the years they were able to improve because of the time and effort Craig put in and the work the kids put in.
"He can be demanding, but the players were up for the challenge."
Part of the appeal of the Sun Devils program is not only are they the newest Division I program, but in their fourth season they're an ascendant one. Ranked by USCHO.com since mid-November for the first time in program history, Arizona State has won 16 games already, nearly double its previous best total.
Being a building block for a program, and its proximity to the West Coast also were factors in Jackson's decision as well.
"They're building something special," Jackson said. "I'm looking forward to getting there (in 2021) and making a mark. With all the success they've had and how they compete against good teams, that's something I wanted to be a part of."