Celebrate your birthday at Southern California's premier ice skating facility! Lakewood ICE is the perfect place to create a lifetime of birthday memories.
Your fully orchestrated party begins with cake, refreshments, balloons, and party decorations in our private party room. Then take to the ice for hours of fun, including an exclusive group skating lesson for you and your birthday party guests! (see packages for details)  Birthday parties are scheduled during all Public Skating Sessions. Below you will find a link to our Public Session schedule. Please note, Parties must be booked and paid in full at least 2 weeks prior to date.
Available Public Sessions
Contact us today to set your date to skate!
Lakewood ICE Program Office
Phone: 562.429.1805 ext. 6221
Email: lwprogramoffice@therinks.com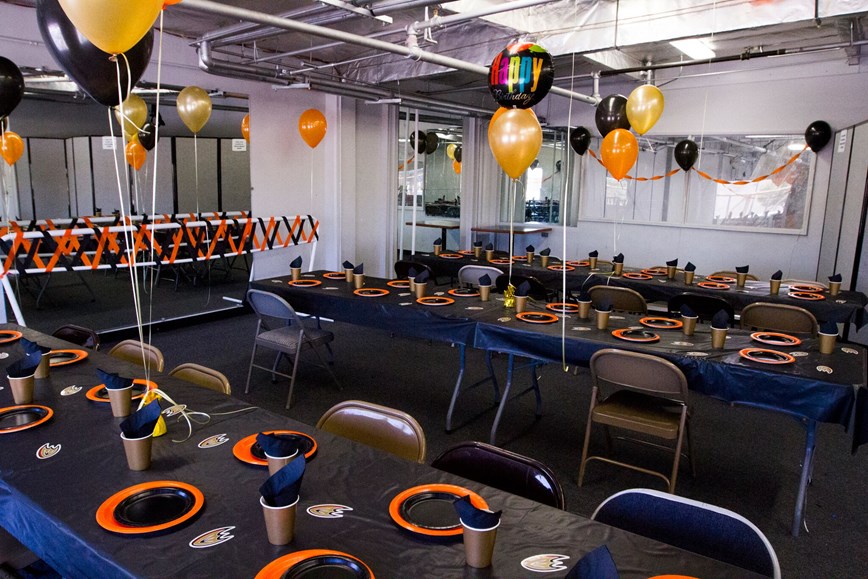 BIRTHDAY PACKAGES
Your child and up to nine guests receive:
Admission to Public Skating session
Rental of figure or hockey skates
Customized ice cream cake
Assorted soft drinks

Cost: $130*
Additional skaters add $12.00, for non-skaters & adults add $6.00**)
Parties must be booked in full at least 2 weeks in advance
Prices subject to change
Prices do not include sales tax*
Adult prices do not include party favors and skating**
Skating is an additional $10.00
Your child and up to nine guests receive:
Admission to Public Skating session
Rental of figure or hockey skates
Customized ice cream cake
Assorted soft drinks
Lakewood ICE party favor
Special present for the guest of honor

Cost: $180*
Additional skaters add $16.00, for non-skaters $11 & additional adults add $6.00**)
"20 minutes of fun" with a Lakewood ICE skating instructor add $20.00  

Parties must be booked in full at least 2 weeks in advance
Prices subject to change
Prices do not include sales tax*
Adult prices do not include party favors and skating**
Skating is an additional $10.00
The Gold Medal Package includes everything in the Silver Medal Package plus:
Your choice of one of the following meals:

Custom made pizzas
Sub sandwiches
Hot dogs or corn dogs

"20 minutes of fun" with a Lakewood ICE skating instructor

Cost: $240*
Additional skaters add $20.00, for non-skaters add $14.00 & adults add $9.00**)
Parties must be booked in full at least 2 weeks in advance
Prices subject to change
Prices do not include sales tax*
Adult prices do not include party favors and skating**
Skating is an additional $10.00
Host an Event